For a face-to-face appointment, you can visit us at Mendlovo náměstí close to Brno city centre. Our office is accessible with prams and wheelchairs. Take a lift to the 4th floor, then follow the hall till the end and you will find us behind the door on the left.
For online consultations we use Zoom or Messenger and phone consultations are also available. You can thus contact us from the whole Czech Republic, and also from abroad.
We have short booking times and take individual care of each of our clients. WE DO NOT SELL ANY DIETARY SUPPLEMENTS NOR OTHER MAGIC PRODUCTS.
Our recomendations are based on real food and only in special cases when it is not possible to get all nutrients from food, we will give you information for you general practitioner about which nutrients you need to suplement.
---
Booking times for Brno centre
Friday 8 am - 7 pm
Online and phone consultations
Monday - Sunday 8 am - 8 pm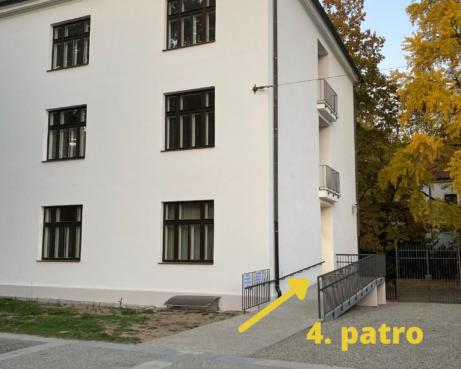 Who is a dietitian
Dietitian (nutriční terapeut in Czech) is a nutrition specialist with education from a medical school. This education ensures not only a deep overview in nutrition but also knowledge of body physiology and pathophysiology so that the dietitian understands the connections between nutrition, health and sickness. Three-year study at the medical school also includes large amount of practical training in hospitals and private centres.
A responsible dietitian continues with their education their whole life, uses evidence based medicine knowledge and does not only use one nutrition style. They always get to know all available information about the client/patient, so you can expect many questions about your health and lifestyle at the first entry session. This is the only way you get the individual approach that you need.
Even the best dietitian cannot deliver expected results if the cooperation is on-sided. To achieve our common success it is necessary that you follow our recommendations. If you are ready to commit to your goal, we are ready to become your guide and partner on your journey.
Mgr. Bc. Lucie Guilleminot
dietitian
I started studying nutrition after a personal experience with gestational diabetes and the great information chaos that I faced when I looked for the right nutrition style for my children. A first I tried to learn by myself but soon I found a passion for the topic and decided to get a professional qualification to help people like me. I joined a medical school in Ostrava (University of Ostrava, Faculty of Medicine) and achived a bachelor degree. My goal is to share the gained knowledge with other people to help them get the right information in their respective situation.